The Toymods Car Club is an actual car club, not just a web forum. While our forums are free to join and use, there is a small annual fee for financial Club membership.
To register for the forums go here: Link to Forum Registration
Your forum registration is MANUALLY approved and your account verification email will appear in the inbox (or trash/Spam folder) of the email address you used to sign up with once processed. You need to click on the link in this email to complete your Forum registration. Until that's done the option for a paid Subscription will not appear.
Toymods is not a business, but a Non Profit organisation run by a volunteer group of "like minded" individuals. You do not need to own a Toyota or any car at all to be a part of Toymods.
Financial Membership
Once your forum account is verified you can follow the steps below to achieve Financial  Membership OR follow this link… Paid Subscriptions (you will need to Login).
Club Membership is for a 12 Month period, your PayPal payment is for Club membership ONLY and is automatically processed with your completed payment.
Your Membership card and club sticker are a gift for new members and not a purchased item.
While Club Membership is a requirement for Club Registration, having it does not ensure you will be approved.
Please Note: We do not issue refunds for purchased memberships once they are processed.
If you are still keen then this is how you can:
Step 1.
Go to the settings Tab top right of page.
Step 2.
On the left hand side of page, look for "Paid Subscriptions" and click
Step 3.
From the pull down list pick the $40 Option and click order.
Step 4.
Check all the details are in order, and click to go to PayPal Page to pay via PayPal or Credit Card (if you don't have PayPal)
Step 5.
Pick your preferred Payment option and fill in the required details and your done.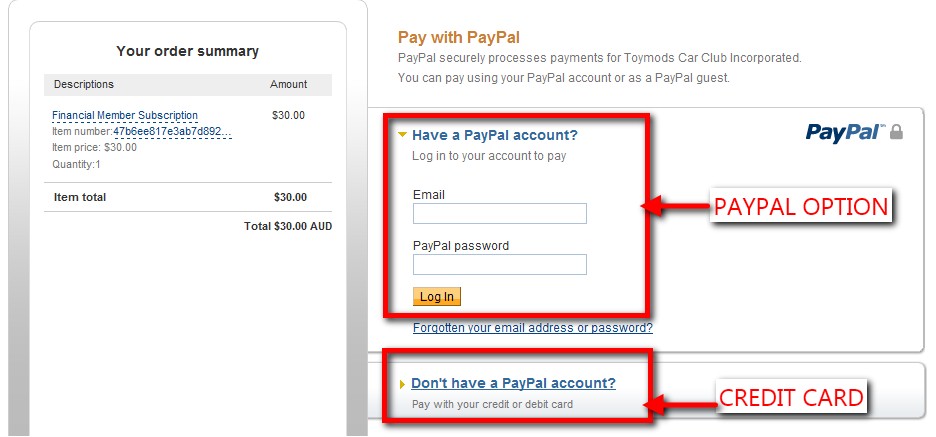 Once you payment has been processed, the forum automatically upgrades your status to Financial Member. Your Club membership expires 12 months from the date of payment.
At the first board meeting after payment (generally 1 month at most), your membership card will be printed and put in the post with a Toymods Sticker of your very own.