Where it all Began…..
Toymods started back in May of 1999. A small group of hills based guys got together for what is noted as the first ever Toymods gathering. It wasn't "Toymods" back then, it was 8 guys who one way or another had bumped into each other and met up under the direction of the clubs first president, Luke Sheerman. If you check the previous events section of the forums there are some pics from that meeting. Either way, this is them: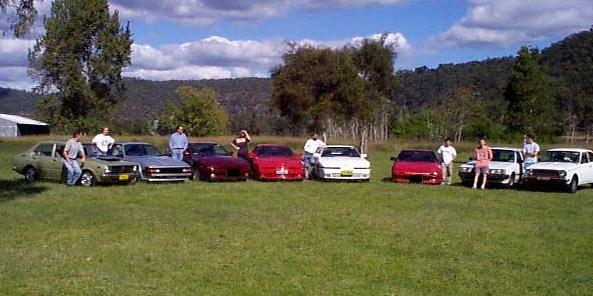 Luke is pretty busy these days and unfortunately has moved on from Toymods, but its fair to say he was the driving force behind the clubs creation. He didn't do it alone, but he was the public face and point of contact – he was 'the man in the crowd'. Toymods became an entity with the support of 10 members.., 10 guys who were willing to cough up some cash and get things started. Each paid for what was then a 3 year membership and things got going.
The first 10 members were:
1 Luke Sheerman; 2 Lukasz Szymanski (MOS); 3 Bill Sherwood; 4 Joseph Moore; 5 Michael Alexander; 6 Darren Cowling; 7 Sean Langley; 8 Michael Seymour; 9 Paul Pyyvaara; 10 Peter Luong (Max/Nark)
It was from the $$$ of these guys that the clubs first fliers were printed, sponsors were obtained and slowly, in the hills at least, word filtered around.
Since the early days, the Toymods Car Club has grown and evolved to one of the largest Toyota Clubs in NSW, and with a forum / web presence dominating most Toyota discussions in Australia; if you 'Google' something Toyota, there's a fair chance Toymods will be in your top five results.